Dynamat Xtreme trunk kit
Price:
£109.00 (including VAT)
Rating:

Shipping:
£10.00 (Fixed shipping cost)
---
Product Description
Dynamat Xtreme trunk kit
For clear, crisp bass without the rattle, use the Dynamat Trunk Kit. Adding Dynamat to the vehicle - especially the trunk -results in higher Sound Pressure Level (SPL).
Dynamat is the easiest-to-apply, thinnest and lightest material for adding sound pressure reinforcement to your car's body. When the panels don't rattle and balloon, you get higher SPL and tighter, louder bass!
Kit contains 5 18" x 32" sheets of Dynamat Xtreme for the trunk floor, side panels, and trunk lid for the ultimate bass and reduction road noise. Self-adhesive.
Dynamat Xtreme Trunk Kit
Part Number: # 19405
Contents: (5) 18" x 32" (457mm x 812mm) pieces of Dynamat Xtreme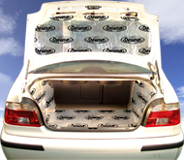 Find Similar Products by Category